**IMPORTANT MERCHANDISE INFORMATION**
The Trustees have recently agreed that, for the foreseeable future, due to storage restrictions, we will not be re-ordering the bulkier items of merchandise. We will continue to offer a year specific t-shirt along with the smaller items of merchandise (key rings, lanyards, beanies, caps, flags, zip pulls, wristbands etc.) and the full range of patches, pins and stickers. We also hope to offer a new pin and patch each year, a calendar, Christmas cards and limited edition items.
This means that once the stock of items listed below is depleted, it will no longer be available to buy. So, to avoid disappointment, get your orders in now.
The items that will not be re-ordered are:
Hoodies
Fleeces
Children's hoodies
Children's t-shirts
Hi –Viz
Ladies vest tops
Rugby shirts
Polo shirts
Jute bags
Teddies
Torches
Wallets
Thank you for your continued support.
The Directors and Trustees, RTTW.
Fundraising for RTTW
The support that Ride To The Wall has received over the last few years from the motorcycling community has been fantastic and quite humbling.
A large number of participants in the ride ask how they could do more and were especially keen to get their ride sponsored.
Ride To The Wall has created the following ways of fundraising in addition to participating in the ride:
Virgin Money Giving

If you are organising your own fundraising event or simply want to donate, Ride To The Wall has its own Virgin Money Giving fundraising page.
Virgin Money Giving is a 100% not-for-profit charity fundraising website. Part of the Virgin group, it's the official fundraising site of the Virgin London Marathon – the biggest annual fundraising event on the planet. It's designed purely to help people raise more money online, without taking a penny in profit.
Donate by text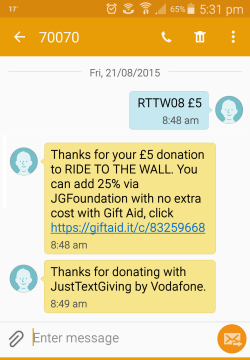 Simply text:
"RTTW08 £5" to 70070
Donate via this web site