RTTW event - affected by COVID-19
It is with a great deal of sadness that I have to announce that Ride to the Wall, in its current format, will not be taking place this year.
My priority as Founder of Ride to the Wall is your safety first and foremost as WALLERS, and not putting you or the general public at unnecessary risk.
Best wishes from Martin Dickinson - Founder of Ride to the Wall.
Fundraising for RTTW
The support that Ride To The Wall has received over the last few years from the motorcycling community has been fantastic and quite humbling.
A large number of participants in the ride ask how they could do more and were especially keen to get their ride sponsored.
Ride To The Wall has created the following ways of fundraising in addition to participating in the ride:
Virgin Money Giving

If you are organising your own fundraising event or simply want to donate, Ride To The Wall has its own Virgin Money Giving fundraising page.
Virgin Money Giving is a 100% not-for-profit charity fundraising website. Part of the Virgin group, it's the official fundraising site of the Virgin London Marathon – the biggest annual fundraising event on the planet. It's designed purely to help people raise more money online, without taking a penny in profit.
Donate by text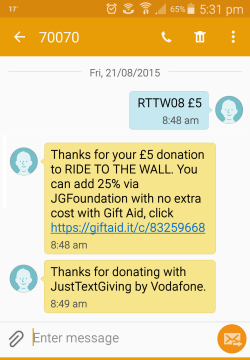 Simply text:
"RTTW08 £5" to 70070
Donate via this web site