Home
›
Queen's Award for Voluntary Service
Queen's Award for Voluntary Service
The MBE for volunteer groups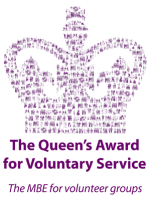 In June 2013 Ride To The Wall was honoured and proud that Her Majesty the Queen has awarded Ride To The Wall the Queen's Award for Voluntary Service.
The Queen's Award for Voluntary Service is the MBE for voluntary groups and is the highest award given to volunteer groups across the UK. It is an annual award made to recognise and reward excellence in voluntary activities carried out by groups in the community.
It is given for outstanding achievement by groups of volunteers who regularly devote their time to helping others in the community, improving the quality of life and opportunity for others and providing an outstanding service.
Ride To The Wall was formed in 2008 by a small group of volunteers who shared the same values of Remembrance and Respect, and has grown year on year and beyond any expectation. As the numbers of supporters and attendees increased significantly every year and the size and scale of the organisation grew considerably, the requirement for additional volunteers also grew and was met by an ever increasing number of volunteers now totalling almost 300, who unselfishly give up their time. Through their commitment, dedication and hard work they allow the 16,000 names carved on the Armed Forces Memorial to live on in our memory.
We hope that you will join us in congratulating all the volunteers on being awarded this prestigious accolade and on their fantastic achievement.
For more information visit www.royal.gov.uk.