Who we are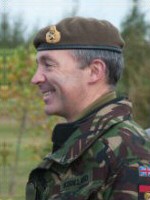 Major General R L Kirkland CBE MA - Patron
Lamont Kirkland entered Sandhurst with an Army Scholarship and spent 15 years in the Royal Engineers before transferring to the Infantry. With 9 Parachute Squadron RE he completed tours in the Falkland Islands, Belize and Sierra Leone. With the Green Howards he served in Northern Ireland and commanded the battalion in Bosnia. In staff tours he was Chief of Staff 24 Airmobile Brigade, Operations Team Leader during the Kosovo crisis and as a brigadier, was Director Land Warfare. His international assignments include NATO posts in Brussels, Virginia USA and attending Defence College in Australia. He assumed command of 4th Division in 2008.
Major General Kirkland holds a Master of Arts degree in Strategic Studies. He was awarded the OBE for service in Bosnia and the CBE for his work on NATO Transformation. He is married to Helen, has two teenage children and rides a Harley Davidson motorcycle.
---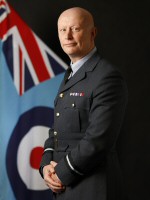 Air Commodore Simon Richardson MA BSc RAF - Patron
Simon Richardson joined the RAF as a Communication and Electronics Engineer in August 1983. He has commanded Field Communications Squadron on Tactical Communications Wing; the Royal Air Force's Communications Training School; and as a Group Captain in 2008 he was selected to be the Deputy Commander of the Army's 11th Signal Brigade (a unique appointment for a Royal Air Force Officer), concluding this tour with a deployment to Afghanistan.
Simon was promoted to Air Commodore in 2012 and, until recently, served as Air Officer Communications at the Royal Air Force Headquarters at High Wycombe.
---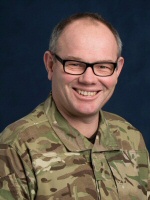 Lieutenant General Paul Jaques CBE - In-service Patron
Paul William Jaques was commissioned into the Royal Electrical and Mechanical Engineers on 6th August 1983. He became commander of 101st Logistic Brigade in December 2005, and saw action in that role in Iraq. He went on to be Head of Capability and Expeditionary Logistics in April 2008, Head of Equipment Planning to the Deputy Chief of the Defence Staff (Capability) in July 2011, and Director Land Equipment at Defence Equipment and Support in December 2013.
He was promoted to Lieutenant General on 8th March 2016, and made Chief of Materiel (Land) and Quartermaster-General to the Forces in 2016. He was appointed a Commander of the Order of the British Empire in the 2013 Birthday Honours.
---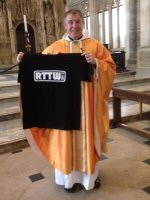 Padre Huw Evans
As a Waller it is a huge honour to be invited back by the Trustees to once again participate in this amazing event. I was overwhelmed by the support that I received last year in my first year as official Chaplain (that's what Martin calls me), and truly humbled by the messages of thanks I received afterwards.
I am a serving Army chaplain with a varied experience of military life, serving with the infantry, artillery, engineers, in the training environment and I have done time at MCTC (as the Chaplain I hasten to add). This has taken me around the UK and across the World including deployed on Ops (TELIC, HERRICK, TRENTON).
I have been riding motorbikes for 18 years, currently riding a Triumph Explorer sporting an R77W number plate.
---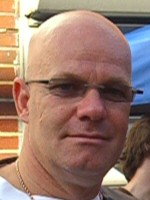 Martin Dickinson, Trustee/Director - Founder
Having served in the British Army from 1978 - 1983 I have always had an interest in motorbikes, starting with the trusted BSA B40. Today my bikes of choice are Harley Davidsons.
Combining my love for motorcycles and my memories of the British Army, and those I served with and those that served before and after me it is a honour to be involved with Ride To The Wall. The growth of the event has been truly astounding and long may it continue.
---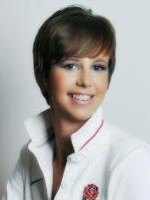 Rebecca Dickinson - Trustee, Treasurer, On-the-day Registration
Although I don't have a military background my Dad served in the British Army. I got involved in Ride To The Wall through my Dad, Martin. He is also responsible for me having a keen interest in motorcycles and scooters.
I am proud to be part of the team that allows us all to remember the names on the Walls of the Armed Forces Memorial.
---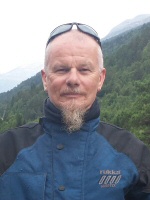 David Farrand - Trustee, Route and Marshal Co-ordinator
I started riding bikes back in 1970, doing bike rallies over the weekends. In 1984 I was working as a dispatch rider. I did this for 7 years and loved every minute. I moved from bikes to vans to 18 wheelers. I now cover, on average, 1800 miles a week in my truck and do ride outs and rallies on my Harley at weekends.
As a then HOG Head Road Captain I volunteered to help out with RTTW in 2008. In 2009 & 2010 I was responsible for the Marshalls looking after the 2 main roundabouts on the A38. Following feedback over the years, I was asked to look at a new way to Ride To The Wall for 2011. I suggested, and set up, the new 7 starting points around the country (we're now up to 11!). I have no connection to the armed forces, but as a biker I am very happy and proud to help the NMA and RTTW.
---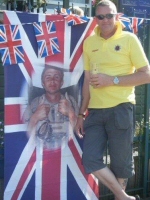 John Foster - Family Liaison Officer
My background comes from the Fire Service, I joined at 18 years of age, did my time & enjoyed the whole experience, think the expression like the Military, friends for life & one big family.
My biking comes from the biggest life change that any parent could possibly imagine, my son Robbie Foster was KIA in Afghan 2007 along side two mates John Thrumble & Aaron Mcclure, they are members of 1 Royal Anglian known as the Vikings our boys were KIA in a Blue on Blue.
To keep myself busy I decided to do a DASS course, passed my test on a Monday & bought a 1300ST Pan on the Tuesday knees knocking i joined the best family on two wheels. I now ride a GS Adventure, I do a lot in Europe so it's the right bike for me.
Now being part of the mighty RTTW committee as the families officer I will endeavour to bring the families of our fallen into the order of events on such an emotionally charged day, I hope I can do them justice ... Proud, pride & Respect ...
---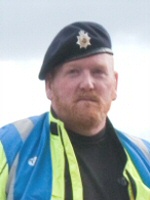 Nick Hillerby, NMA Co-ordinator
Motorbikes have been part of my life for as long as I can remember, I grew up going everywhere on the back of my dad's old Nortons and Triumphs.
At 16 I got my own wheels in the form of a Puch 50 moped, at 17 I progressed through a couple of Russian 2-strokes before discovering 4-strokes in a BSA A7SS 500. After a couple of big Hondas (CB750, GL1000) and a Yamaha XS1100 I went back to a classic Triumph T120 650 which I ran for 7 years before running a VF750 followed by a new generation Triumph Trident 750.
In 2002 I took a test ride on a Harley Road King which became my first ever "new" bike and one I still have after 8 years and many miles. Late last year the Road King was joined by 98 Buell M2 Cyclone for when I feel like a change of pace.
In 1981 I took the Queen's shilling and joined the Royal Corps of Transport, now known as the Royal logistics Corps in which I served for 6 years. Although Northern Ireland was an ongoing conflict and the Falklands war kicked off I was never directly involved with either and spent my time in the forces based in England until returning to civilian life.
---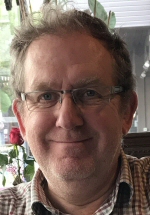 Steve Maguire, Trustee, Health Safety and Compliance
I have a keen interest in most things motorcycling and I have serving family members. I'm proud to be able to support RTTW and have seen the event grow since 2012, my role is ensuring that the interests of the charity, Data Protection and the safety and welfare of all attending are upheld. I'm happy to attend to all the things that send the rest of the team to sleep!
---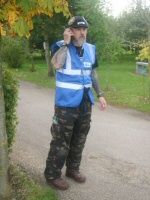 Terry Murphy - Trustee, NMA Co-ordinator
I've been riding for almost 30 years now having only stopped once for 18 months when my first son was born, which happened to unfortunately coincide with a head on collision with a driver on the wrong side of the road. I walked away so all was good.
I have ridden Vespas, Hondas, Kawasakis, Suzukis and finally, when I hit 40, I got the one machine I had always dreamed of, my first Harley Davidson. It's just a black all over FXDF Fatbob and without question the best two wheels I've ever owned.
My military background is purely family orientated. My paternal Grandad was with the Royal Cheshire's and my maternal Grandad with the REME. My own dad was a 23 year served REME RSM. All of whom have left me immensely proud of them and their legacy.
I was introduced to RTTW through my local chapter (Nene Valley) and, obviously, Martin our Chapter Director. I wanted to be involved from the very beginning due to my family background, and am immensely proud today to have invited to be a more integral part of something so inspiring, emotional and respectful.
---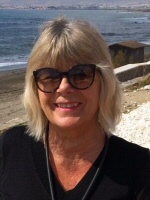 Pat Percival - Secretary, Merchandising, Online Registrations
My interest in motorbikes and RTTW began when I met Martin in 2012. Since then I have attended RTTW every year and been part of the registration team and, more recently, have just completed a two week trip across Europe as a pillion, so think my initiation is complete.
I am proud to be taking over the merchandising role and helping raise funds for the RTTW organisation.
---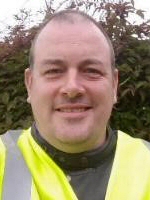 Alan Ross - DMP Logistics Co-ordinator
My guess is that I'm one of the furthest away, living and working in Tyne & Wear, where I was a founder member of the local Blood Bike group and still ride regularly for them. I also do route planning, parking & marshalling for a motorcycle escort group in the North East. I first experienced RTTW in 2010 without even knowing what the NMA was, having attended for all the wrong reasons (just for the bikes). In no time at all I was overwhelmed by the emotion of the Arboretum and the service of remembrance, and spent the next six years as a Marshal on Route#2. For the last few years I've also been at the back of the Drayton ride-in with a 4x4.
Without doubt, RTTW is the biggest event in my calendar every year, and it's an honour to play a small part in making everyone's visit a memorable experience.