RTTW Patrons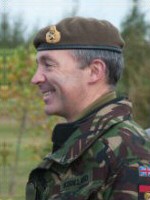 Major General R L Kirkland CBE MA - Patron
Lamont Kirkland entered Sandhurst with an Army Scholarship and spent 15 years in the Royal Engineers before transferring to the Infantry. With 9 Parachute Squadron RE he completed tours in the Falkland Islands, Belize and Sierra Leone. With the Green Howards he served in Northern Ireland and commanded the battalion in Bosnia. In staff tours he was Chief of Staff 24 Airmobile Brigade, Operations Team Leader during the Kosovo crisis and as a brigadier, was Director Land Warfare. His international assignments include NATO posts in Brussels, Virginia USA and attending Defence College in Australia. He assumed command of 4th Division in 2008.
Major General Kirkland holds a Master of Arts degree in Strategic Studies. He was awarded the OBE for service in Bosnia and the CBE for his work on NATO Transformation. He is married to Helen, has two teenage children and rides a Harley Davidson motorcycle.
---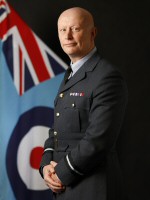 Air Commodore Simon Richardson MA BSc RAF - Patron
Simon Richardson joined the RAF as a Communication and Electronics Engineer in August 1983. He has commanded Field Communications Squadron on Tactical Communications Wing; the Royal Air Force's Communications Training School; and as a Group Captain in 2008 he was selected to be the Deputy Commander of the Army's 11th Signal Brigade (a unique appointment for a Royal Air Force Officer), concluding this tour with a deployment to Afghanistan.
Simon was promoted to Air Commodore in 2012 and, until recently, served as Air Officer Communications at the Royal Air Force Headquarters at High Wycombe.
---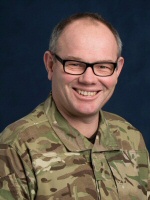 Lieutenant General Paul Jacques CBE - In-service Patron
Paul William Jaques was commissioned into the Royal Electrical and Mechanical Engineers on 6th August 1983. He became commander of 101st Logistic Brigade in December 2005, and saw action in that role in Iraq. He went on to be Head of Capability and Expeditionary Logistics in April 2008, Head of Equipment Planning to the Deputy Chief of the Defence Staff (Capability) in July 2011, and Director Land Equipment at Defence Equipment and Support in December 2013.
He was promoted to Lieutenant General on 8th March 2016, and made Chief of Materiel (Land) and Quartermaster-General to the Forces in 2016. He was appointed a Commander of the Order of the British Empire in the 2013 Birthday Honours.